Sale!
Whipple Ford Shelby GT350/GT350R 5.2L 16-20 Stage 1 SC
Compare
Description
Whipple Ford Shelby GT350/GT350R 5.2L 16-20 Stage 1 SC Intercooled Complete Kit Gen 5 W185AX 3.0L for sale
Buy Whipple Ford Shelby GT350/GT350R 5.2L 16-20 Stage 1 SC from Auto Power and have it shipped to your address worldwide. These supercharger kits are the most complete available, including everything needed for installation. This includes all mounting brackets for the blower, pullies, belts, intercooler, all the tubing, piping, fittings and clamps and even oil for the self contained lubricating system. You do not need to make any major modifications or purchase special tools or other parts. Many customers install in their garage or driveway over a weekend.
If you want the most advanced, most powerful, most upgradeable system available, then here it is! Whipple Superchargers has yet again set a new precedence for bolt-on power and industry leading durability. Featuring the new, 5th generation Whipple 3.0L supercharger with an all new rotor profile and new inverted supercharger design to unleash even more power than ever before. The GT350/GT350R Whipple System includes the billet Roval 132mm electronic throttle body, high flow 72lb/hr fuel injectors for massive flow capacity and new high flow intercooler pump. The industry leading Whipple Shelby GT350 system makes up to 875 (+350hp) engine horsepower and 660 (+231ft/lb) foot pound of torque on 93 octane fuel with only 10 psi of boost! Nearly a 65% power gain with bolting the Whipple SC with it's unique Roval 132mm billet throttle body and high flow injectors!

gt350 whipple supercharger installation cost
Nobody puts more time and resources into the development then Whipple. The proof is in the product, more power per lb of boost than any other system. The key to making such incredible reliable power is in the Whipple unique twin screw supercharger, massive air-to-water intercooler, oversized Crusher air system and innovative PCM programming that keeps the power-train safe and secure. Whether you're looking for a daily driver that needs a little more punch or you're craving a tire-frying, rubber shredding street machine, the Whipple Supercharger systems delivers like no other SC system today. Power from tip in to redline, the new Whipple SC system makes incredible power across the entire rpm range while maintaining industry leading drive-ability.
With years of OEM and racing experience, Whipple engineers have developed a unique PCM calibration that reconfigures all the necessary engine functions including fuel, spark, knock detection, variable cam timing, multiple RPM limits, torque management and electronic throttle control. The vehicles PCM constantly monitors the engines torque output while monitoring many different parameters to keep the engine in it's ideal parameters. If a parameter falls below specification, the PCM will lower boost and torque output until the problem can be cured. No other calibration in the field has such technology, giving the Whipple SC system unheralded performance and reliability.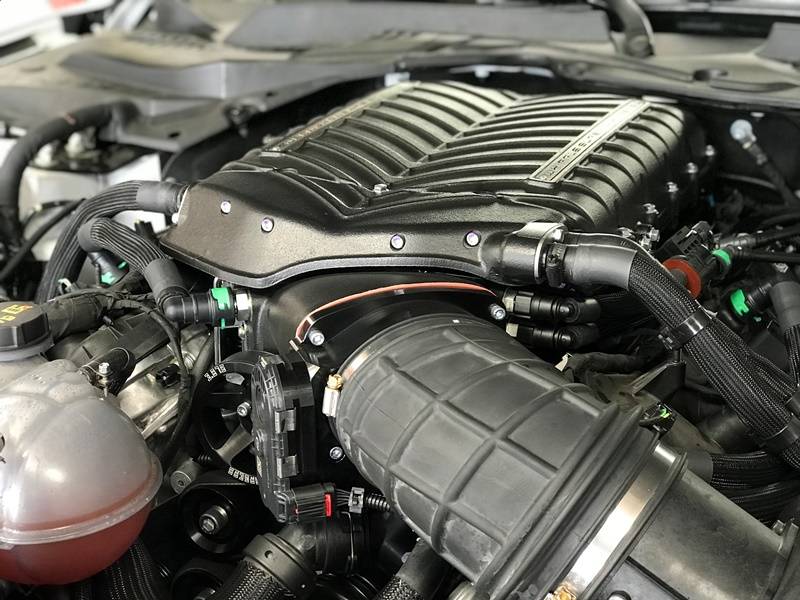 DETAILS:
Horsepower gain: 350HP+
W185AX 3.0L supercharger head unit, 10 psi
Massive Air-to-Water Aluminum Bar-plate Intercooler
Fuel Pump Supplied: NOT Required
Fuel Injectors Supplied: 72 lb/hr High Flow Injectors supplied
Computer/Ignition Mods.: Programming Supplied
The most power per pound of boost on the market!
Easy and quick installation
System is 100% complete with OEM quality and appearance
Significantly outflows competitors 1.9L Roots-Type & 2.3L Twin-Screw; Most Efficient Twin-Screw Supercharger On The Market
Complete With All Necessary Parts & Hardware For Installation
No Internal Modifications Required
TREperformance is an Authorized Installing Dealer of Whipple Superchargers.
Custom made and shipped direct from Whipple in 5-10 business days!
EXCLUSIVE FEATURES: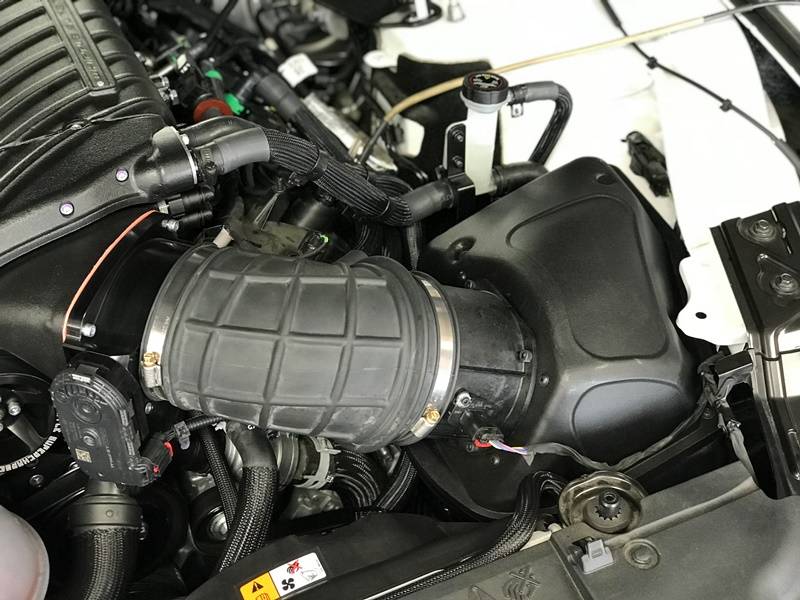 No other upgrades required, just massive power right out of the box
Front entry W185ax (3.0 liters) Whipple twin-screw supercharger that significantly outperforms competitions 1.9L and 2.3L roots-type systems
3.0L 30% larger than 2.3L roots-type
Front feed supercharger utilizes precision ground helical cut gears vs a problematic belt
Oversized Crusher™ inlet for maximum airflow capacity and minimal rotor cavitation
Front feed allows for oversized intercooler core compared to other smaller intercooler cores giving Whipple lower air charge temps which allows more boost and timing to be run on pump gas
Massive air-to-water aluminum bar-plate intercooler offers more cooling than any other positive displacement system available, nothing comes close
Massive oversized aluminum intercooler reservoir (over 2 gallons) holds more than double any competitors IC water system allowing longer more consistent power
Whipple Superchargers massive oversized intercooled air-bypass system for industry leading reduction of burst knock and incredible fuel economy
Self-contained oversized oil system for dramatically reduced oil temps in even the most demanding conditions
Exclusive 3×4 rotor combo for significant increase in airflow under the curve than less efficient 4×6 rotor combo or 4×4 roots
Center discharge port for better cylinder to cylinder distribution then other twin-screws with cobbled together billet adapters and forward facing discharge
W185ax SC bottom is open for increased plenum volume and better over-intercooler air distribution giving more intercooler effectiveness
Extra plenum volume below intercooler core for far less pressure drop
Discharge down design allows for less pressure loss which gives more power at lower boost levels
Top mount design allows for cooler operation then upside down SC's that conduct heat from engine and are trapped by runners and covers, causing hotter manifold temps and less power per pound of boost
More boost at the "hit" than any other twin-screw
Flat torque curve for incredible acceleration
Oversized heat exchanger for incredible intercooler water temps
Fits under factory hood with no modifications
No internal modifications required
Completed installation looks factory installed, not some cobbled together kit with multiple billet adapters
Kits come complete with all necessary parts and hardware for installation
Unique oil level sight glass for easy oil level and quality check, no dipstick to bind or misread
Plug and play wiring with male and female connections
Proven 6-rib belt system with heavy duty spring loaded tensioner and adjustable idler system
Stainless steel tapered jack-shaft with unique plastic cover for increased safety
OEM quick connect fittings for easy installation, no ugly brass or steel fittings on the SC
Complete kits and Competition kits are available
Available in wrinkle black, polish, Ford textured blue or any custom color available
Instant boost at the touch of the throttle
3 minute pulley changes
Lightweight pocketed SC pulley
The Whipple Advantage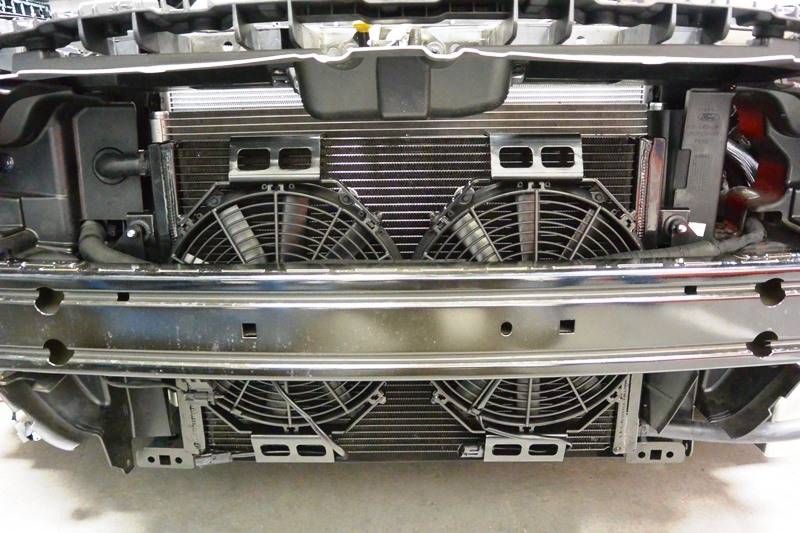 The Whipple Advantage is designed into every Whipple SC system. This advantage is broken down into 5 categories during the design and testing phases which truly sets Whipple apart from others:
1. Best power for money.
2. Most complete package.
3. Maximum power.
4. Maximum power expandability.
5. Aesthetic appeal.
What does this mean? You get it all, in one package. Massive power gains with the biggest superchargers, biggest intercoolers, biggest intercooler systems, biggest air-inlet systems while providing robust belt systems and heavy-duty spring tensioners. The intake manifold is designed with high velocity in mind, while increasing plenum volume to lower pressure loss at high power applications.
You then get OEM style fuel and vacuum hoses with nylon sheaving for added protection and appeal, OEM style quick connects with billet aluminum fittings. No ugly brass fittings hanging off the inlet like some others. Wire extensions are injection molded to allow simple plug-and-play installations. Each system also has multiple options for increased performance such as oversized heat-exchangers with dual fans, billet high flow throttle bodies, and oversized cold air intake systems just to name a few.
Each kit comes with step-by-step instruction manuals printed in color to help all installers, including the do-it-yourselfer. Kits come with all the fasteners, all color matched for proper aesthetic appeal.
So don't be fooled by others, there is no comparing to the Whipple supercharger systems, simply the top of the line packages designed and built to exceed all expectations.
Whipple's Superior Engineering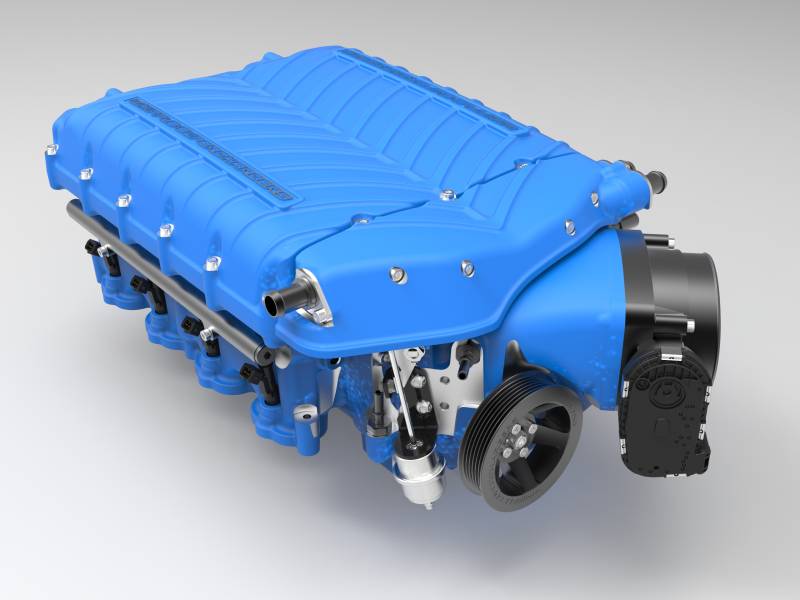 Leaving no stone unturned, Whipple's revolutionary system for the Ford 5.2L Voodoo engines is truly resetting the standards of supercharging. With its massive front feed inlet, typical inlet inefficiencies are a thing of the past. With the lightweight, stainless steel tapered jack-shaft, the supercharger pulley height is offset .75″ below the supercharger centerline. Why? Whipple engineers were able to add .50″ thicker intercooler core and .25″ more plenum volume below the core to decrease temps and pumping losses.
Other positive displacement superchargers sacrificed plenum volume and runner size while Whipple engineer's used every square inch available to open the volume of the manifold, allowing for future expansion of power levels. Small runner and small volume manifolds cause excess boost "build-up" giving you manifold pressure, not proper cylinder pressure. This results in high boost, low power scenario's with excess heat from the lack of proper flowing air volume.
Gt350 whipple supercharger installation cost
Whipple didn't just stop there, knowing that the Voodoo motors love boost, Whipple's team squeezed an epically large oversized aluminum bar and plate intercooler core into its large intake manifold, nearly 30% larger than the competition! With more open surface area, both on top of the core and the core itself, Whipple's post intercooler air temps are second to none. Cooler air equals denser air which equals more power at each boost level while being safer on engine components.
The bigger intercooler alone wasn't enough, in previous generations, the supercharger discharge was typically too far forward from the intercooler core, and sandwiched so close to the core on top that the core's surface area was not properly utilized. With the front feed 3.0L compressor, Whipple was able to increase the volume and distance above the intercooler core, as well as doing the same below. This issue, like some of our competition, increases the "boost" in the manifold, but not at the valves and combustion chamber. This means high boost, low power and high discharge temps. Whipple's front feed system has a rear discharge port at nearly the center of the IC core. Through countless CFD analysis, Whipple's design utilizes nearly the entire intercooler core, resulting in less pressure drop and cooler temps for increased power levels. whipple gt350 1/4 mile
Another great feature to the Whipple kits is the oversized heat exchanger, oversized aluminum intercooler reservoir and optional dual fan kit. The oversized heat exchanger is nearly the size of the engine radiator, giving incredible cooling capacity for daily driving, drag racing or road racing. Get the dual Spal fan kit option and increase the airflow over the heat exchanger. The Whipple oversized aluminum reservoir is again a unique feature included with every kit. The aluminum reservoir is remote mounted in the driver side inner fender, keeping it in the cool area away from engine heat, along with having over 1.2 gallons of capacity in the reservoir alone! Giving the intercooler system well over 2 gallons of capacity. This means cooler air temps, less heat soak and more power!
Front Inlet v. Rear Inlet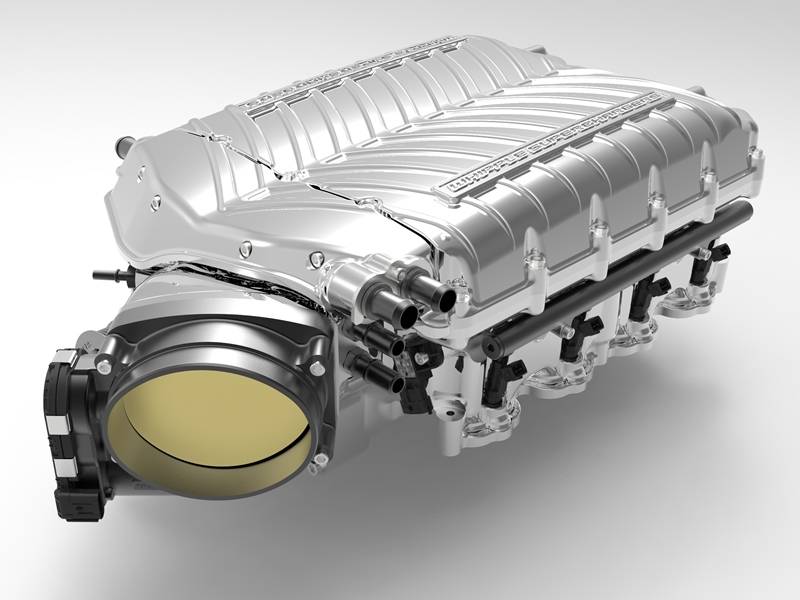 The Whipple front feed system is far superior to other, smaller supercharger rear inlet based SC systems for a very simple reason, less inlet restrictions. The fact is simple, the front entry systems do not require multiple 90deg bends or one sweeping 180deg bend before the SC inlet, which causes unequal rotor filling and lower volumetric efficiency. The new Whipple system only has 1 gradual bend, less than half that of the rear entry style systems.
Rear inlet systems also sacrifice the rear inlet to clear the firewall in most cases, or there's a big need to slide the SC too far forward, making the discharge pointed up and away from the intercooler core, making the air have to make another turn just to get to the intercooler core. It's simple, the more work the air has to do, the lower the power gains are going to be.
THIS PRODUCT MAY BE USED SOLELY ON VEHICLES USED IN SANCTIONED COMPETITION WHICH MAY NEVER BE USED UPON A PUBLIC ROAD OR HIGHWAY, UNLESS PERMITTED BY SPECIFIC REGULATORY EXEMPTION (VISIT THE "EMISSIONS" PAGE AT HTTP://WWW.SEMASAN.COM/EMISSIONS FOR STATE BY STATE DETAILS.
LEGAL IN CALIFORNIA ONLY FOR RACING VEHICLES WHICH MAY NEVER BE USED, OR REGISTERED OR LICENSED FOR USE, UPON A HIGHWAY.
IT IS THE RESPONSIBILITY OF THE INSTALLER AND/OR USER OF THIS PRODUCT TO ENSURE THAT IT IS USED IN COMPLIANCE WITH ALL APPLICABLE LAWS AND REGULATIONS.
THIS POLICY ONLY APPLIES TO INSTALLERS AND/OR USERS WHO ARE LOCATED IN THE UNITED STATES, HOWEVER CUSTOMERS WHO RESIDE IN OTHER COUNTRIES SHOULD ACT IN ACCORDANCE WITH THEIR LOCAL LAWS AND REGULATIONS.